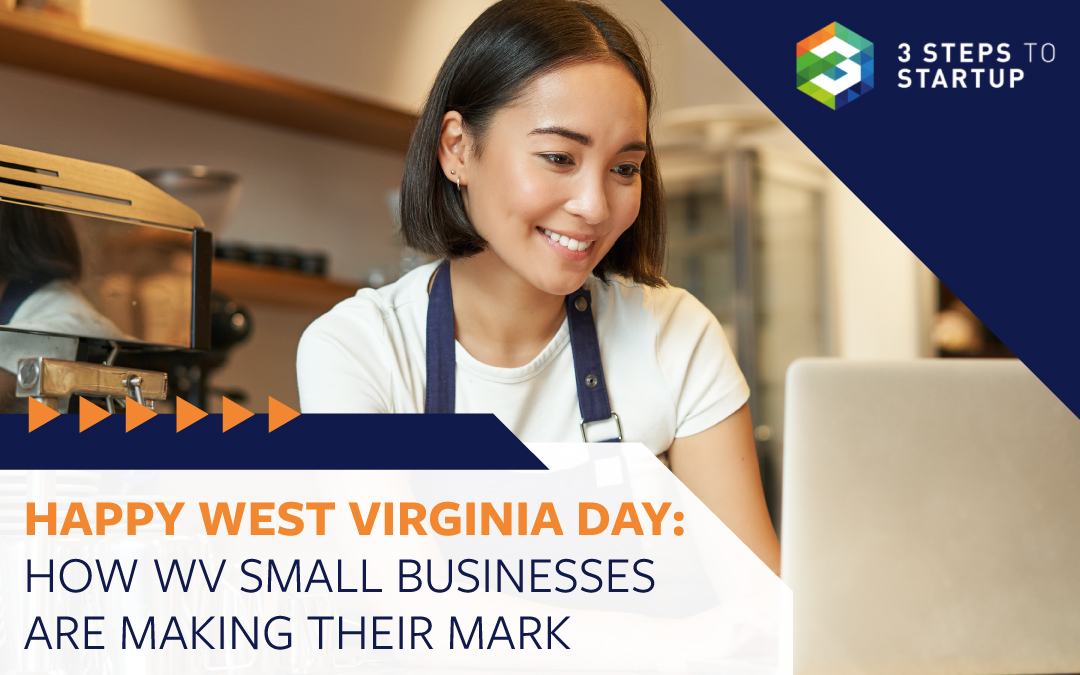 On June 20th, we celebrate West Virginia Day – a day to reflect on the state's history, culture, and achievements. Despite the challenges brought on by the COVID-19 pandemic, West Virginia has much to be proud of. In this blog post, we will explore some of the ways in which our state's small businesses have thrived in the face of adversity, and the role that entrepreneurialism and innovation have played in driving growth and prosperity.
In this blog, you'll learn:
The impact of COVID-19 on small businesses in the US and West Virginia
How West Virginia's small businesses have been growing despite the challenges of the pandemic
Exciting new investments and developments in West Virginia's business community
How West Virginia Day is a celebration of the state's entrepreneurial spirit and commitment to innovation
How 3 Steps To Startup and WVCAP help West Virginia businesses reach new funding goals and provide more customers with the solutions and products they need
Celebrating West Virginia Day
West Virginia Day is just the culmination of the amazing feats and successes that local West Virginian business owners help drive each year. We've collected a few statistics, facts, and well-wishes to the business owners like you who help move our great state forward.
The Impact of COVID-19 on Small Businesses
The COVID-19 pandemic has had a significant impact on small businesses across the country, and West Virginia is no exception. Many businesses were forced to close their doors temporarily or permanently, resulting in job losses and economic hardship. However, despite these challenges, West Virginia small businesses have shown remarkable resilience.
How West Virginia Small Businesses Stack Up
According to the US Small Business Administration, small businesses account for 44% of US economic activity and employ over 60 million Americans. In West Virginia, small businesses make up 99.4% of all businesses in the state and employ 284,162 people. These small businesses are a critical component of West Virginia's economy, and their success is essential to the state's continued growth and prosperity.
Growth in West Virginia Despite the Pandemic
Despite the challenges posed by the pandemic, West Virginia has seen growth and innovation in its small business community. According to data from the West Virginia Secretary of State's office, nearly 10,000 new licenses were issued in February 2023 alone, indicating a strong appetite for entrepreneurship and business creation in the state.
Here are a few of the most relevant and eye-opening statistics showcasing WV's growth:
111,614 small businesses in West Virginia, comprising 98.8% of all businesses in the state
269,473 employees working for small businesses in West Virginia, representing 48.6% of all employees in the state
Between March 2020 and March 2021, there was a net increase of 304 establishments in West Virginia, with 4,633 openings and 4,329 closings
Employment expanded at 8,826 establishments and contracted at 11,443 during the same period
Of the 4,274 small businesses that opened during this period, 40,726 jobs were gained and 53,963 jobs were lost, resulting in a net decrease of 13,237 jobs
One example of this growth and innovation is Endolumik, a medical technology company based in West Virginia. In March 2023, the company announced that it had closed a $1.5 million investment round to fund the development of its groundbreaking technology. This investment is a testament to the talent and ingenuity of West Virginia's entrepreneurs and the state's commitment to supporting their success.

Success Stories: Endolumik's $1.5 Million Investment

Endolumik is a startup that has developed a minimally invasive surgical device for treating gastrointestinal disorders. The device is designed to be safer, more efficient, and less invasive than traditional surgical methods, offering patients a faster recovery time and fewer complications. The company's recent investment round will allow it to accelerate the development and commercialization of its technology, bringing it to patients who need it most.

Endolumik's success is just one example of the many innovative startups and small businesses that are thriving in West Virginia. These businesses are driving job creation, economic growth, and technological innovation, all while strengthening the state's reputation as a hub of entrepreneurialism and innovation.

The Role of the Entrepreneurial Spirit and Innovation in West Virginia's Future

West Virginia's small businesses and entrepreneurs are critical to the state's future success. By fostering a supportive ecosystem for entrepreneurship and innovation, we can ensure that West Virginia remains a competitive and thriving place to do business. This means investing in education and training programs, providing access to capital, and creating a regulatory environment that supports innovation and growth.

In addition, we must continue to promote West Virginia as a destination for entrepreneurs and innovators. The state has a rich history of innovation and entrepreneurship, and we must capitalize on this legacy to attract the best and brightest minds to our state.

Looking Forward to Continued Growth and Prosperity

As we celebrate West Virginia Day, let us take pride in our state's many achievements and look forward to a future of continued growth and prosperity. Despite the challenges brought on by the pandemic, West Virginia's small businesses and entrepreneurs have shown remarkable resilience and

How West Virginia Capital Access Program (WVCAP) Can Help Your Business Thrive on West Virginia Day

The WVCAP provides access to capital for WV small businesses.   The program offers various loan and equity programs to assist startups to launch their business ventures and established businesses to expand.

Getting Started with 3 Steps To Startup

With 3 Steps To Startup's recent partnership with WVCAP, we are confident that we can help you get beyond the day-to-day difficulties of running a business alone. It's time that you can focus on innovating again.

Help Move West Virginia's Economy Forward

Tags: 3 Steps To Startup, Business Start Up, Educational Resource, Entrepreneurship, Informational Blog, Networking, Small Business, Startup, West Virginia Small Business, WVCAP