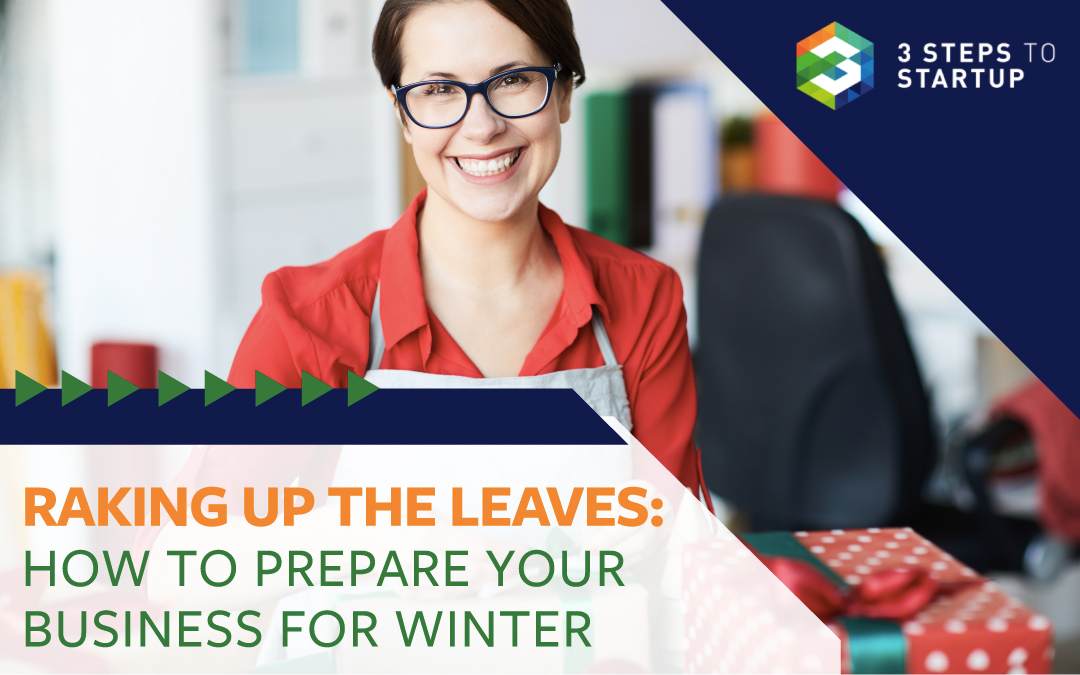 As the weather gets colder and we move closer to winter, it's important to start thinking about how this will impact your business operations. There are a few key things you can do to make sure your business is prepared for winter weather. Take the time to investigate what will help your employees save more money and how your customers can enjoy their online or physical shopping experiences as the snow falls and the ice builds up. In this blog, we'll give you some additional strategies to prepare your business for winter (not just raking up the leaves found on your terrace or grass).
In this blog, you'll learn:
How to prepare your business for winter
How to help your employees learn and prepare to take various tax deductions
Which ends you might want to tie up your business before the winter arrives
How 3StepsToStartup helps you gear up for success and grow your business
"Raking Up The Leaves": Easy Ways To Prepare Your Business For Winter
Preparing for winter is challenging due to the unpredictable nature of how customers will shop and what they'll buy. As a startup owner, your job is to ensure you think and act ahead of the curve to ensure your business survives and thrives in the cold and icy winter months.
#1: Evaluate Your Cash Flow & Revenue Situation Before The First Snowfall
As a business owner, you should constantly be evaluating your cash flow. What is cash flow? It's simply the movement of money in and out of your business. To get a better understanding of your business's cash flow, you need to track three things: your operating expenses, your invoices, and your accounts receivable. By tracking these three things, you'll get a clear picture of where your money is going and where it's coming from. This will help you make better decisions about how to allocate your resources.
#2: Help Your Employees Take The Right Tax Deductions
As an employer, you want to make sure your employees are taking all the right tax deductions. This can help them save money, and it can also help them save on taxes. There are a few things you can do to help your employees take the right deductions. First, you can provide them with a list of deductible expenses. Second, you can help them track their expenses. And third, you can provide them with resources to help them understand the tax code.
Common employee deductions you may consider sharing with your employees include:
Federal/state income tax: remind your contractors and employees of the importance of accurate deductions and claiming the relevant amounts they've had deducted throughout the year.
Social security tax: this is often automatically deducted from employees' paychecks but it is important to ensure that your accountant/payroll specialist has deducted this correctly and that your payments are accurate and on time.
401(k)/Roth IRA contributions: most employees have the option to deduct any contributions they've made throughout the year to 401(k) plans, and/or Roth IRA plans. Remind employees of any increases in eligible contribution limits or potential deductions which may be relevant to their tax situations.
World-related education, and/or equipment expenses: employees and contractors (in certain situations) are eligible to deduct work-related training, and equipment used on the job. While this is often discussed with a personal tax advisor, it doesn't help to point your employees in the right direction before tax time.
#3: Prepare Your Holiday Marketing Campaigns
As the holidays approach, now is the time to start preparing your holiday marketing campaigns. This is the time of year when people are most likely to spend money, so it's important to make sure your campaigns are effective.
This way, you can ensure that you have the time to create truly impactful campaigns. Last-minute campaigns are often rushed and lack the polish that is necessary to stand out. By starting early, you can avoid this and create campaigns that will resonate with your audience.
Here are a few tips to get you started:
Figure out what your unique selling proposition is. What makes your business stand out from the rest?
Create a holiday-themed landing page on your website.
Create festive email templates that you can use to reach out to your customers.
Make sure your social media accounts are ready to go with holiday-themed content.
Plan any holiday-specific sales or promotions that you'll be running.
#4: Make Ease & Convenience a Priority
Making your customers feel comfortable and at ease should be one of your top priorities. After all, if your customers are happy, they're more likely to come back and recommend your business to others. There are a few simple things you can do to make your customers feel at ease, such as smiling, making eye contact, and speaking in a clear and friendly voice. You should also take the time to listen to your customers and understand their needs. If you can make your customers feel comfortable and valued, you'll be well on your way to success.
Tie Up Loose Ends In Your Business Before Winter
As winter approaches, it's important to make sure that your business is in good shape. Tie up any loose ends, so that you can focus on keeping things running smoothly during the colder months. This means taking care of any outstanding orders, wrapping up any projects that are still ongoing, and addressing any outstanding customer issues. By taking care of these things now, you'll be able to relax and enjoy the winter without worrying about your business.
Getting Started with 3 Steps To Startup
Ideas take time, and great ideas often form over a cup of hot chocolate and a danish. We've got both taken care of. The kind of ideas that build great businesses that could take off is what we help you identify.

What will we help you build and grow: a business that offers products and services that will take hold, and possibly change how we all look at the world and how customers live their lives. How are you scaling your business this holiday season? Is your team ready for the paradigm shift toward product and sales success? We can give you the tools and strategies that will help grow your business and increase your sales.

Tags: 3 Steps To Startup, Cash Flow, Entrepreneurship, Holiday Marketing Campaigns, Revenue, Tax Deductions, Winter Business Prep