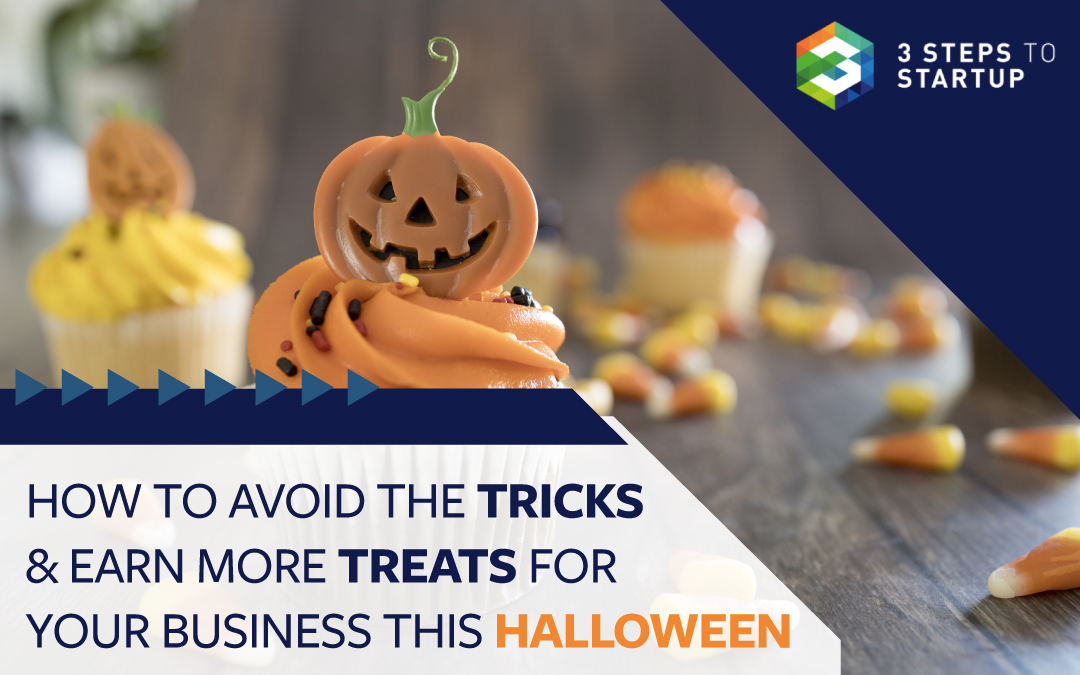 Which way will your business go this Halloween? Trick or treat? Many business owners get so caught up in the festivities of the season, they don't realize all the little "tricks" that can pop up and cause havoc for their business. Here are a few tips to avoid the tricks and focus on the treats this Halloween.
In this blog you'll learn:
How to avoid tricks that can derail your business' success this Halloween
Which treats help move your business towards long-term success
How 3 Steps To Startup will help can help you grow your business for years after this Halloween season
How To Avoid The Tricks And More Treats In Your Business This Halloween
Halloween is a great time to get creative with your business. But it's also a time when scammers and fraudsters are out in full force. Here are a few tips to help you avoid the tricks and get more treats this Halloween:
Trick #1: Avoid The Tricks & Don't Get Taken Advantage of In Your Business
It's not uncommon for customers to try and take advantage of businesses, especially small businesses. They may try to get a discount that they don't deserve or return an item that they used or damaged. While it's important to be accommodating to customers, you shouldn't let them take advantage of you. Here are a few ways to avoid getting taken advantage of by customers:
Know your prices and stick to them. Don't give discounts unless they're deserved.
Inspect items before accepting returns. If an item is damaged or used, don't accept it.
Be firm with customers. If they're being unreasonable, don't be afraid to tell them no in a considerate manner.
Trick #2: Avoid Listening To Time Wasters On YouTube & Social Media
There are many time wasters on YouTube, and it can be easy to get caught up in watching them. However, it's important to avoid doing this, as it can waste time that could be spent elsewhere. Many productive things can be done with one's time, and watching time wasters on YouTube is not one of them.
If you find yourself getting caught up in watching time wasters on YouTube, try to find something else to do that is more productive. There are plenty of other things to do on the internet, and on YouTube, that can be more beneficial to your time.
Treat #1: Stay Organized & Focused
If you want to be successful, you need to stay organized. That means creating and following a schedule, keeping track of your tasks and deadlines, and knowing where to find the information you need when you need it. It can be helpful to set up a system that works for you, whether that means using a physical planner or calendar, or keeping everything digital.
The important thing is that you find a way to keep track of your commitments. It's important to make sure you are meeting your goals. Staying organized takes practice, and it is not always easy, but it is worth it. When you can stay on top of your schedule and your responsibilities, you will be able to achieve more and feel less stressed. Start working on
Treat #2: Follow Treats To Set Your Business Up For Success This Halloween
This Halloween, don't get too caught up in the holiday fun and forget about your business goals. Instead, take some time to follow the most helpful influencers and stay focused on your success. There are plenty of resources available online to help you stay on track. We held our new product launch webinar recently. This is a great video for you to watch to keep you focused and moving forward this Halloween.
Whether you're looking for tips on time management, goal setting, or productivity, you can find plenty of valuable information from successful business leaders. So take some time this Halloween to focus on your business goals, and you'll be well on your way to a successful year.
Remember: Sometimes Tricks Can Lead To A Treat
Sometimes challenging situations and people can give you inspiration and new ideas. When you're faced with a difficult problem, it can be helpful to think about how someone else might have tackled it.
Similarly, when you meet someone new, it can be inspiring to hear about their life and what they're passionate about. By exposing yourself to new ideas and different ways of thinking, you can open yourself up to new possibilities and ways of approaching problems. So next time you're feeling stuck, remember that a little inspiration can go a long way.
Getting Started with 3 Steps To Startup
You have an idea. Are you ready to use it to build a successful startup?

It's a great idea. The kind of idea that could take off. Are you ready to move forward with it? Have you appropriately planned to launch your product the right way? Something that will take hold, and possibly change how we all look at the world.

Get Your Startup Geared Towards Success With 3Steps To Startup

Tags: 3 Steps To Startup, Business Goals, Fraud Prevention, Halloween, Organization, Scam Prevention, Trick or Treat