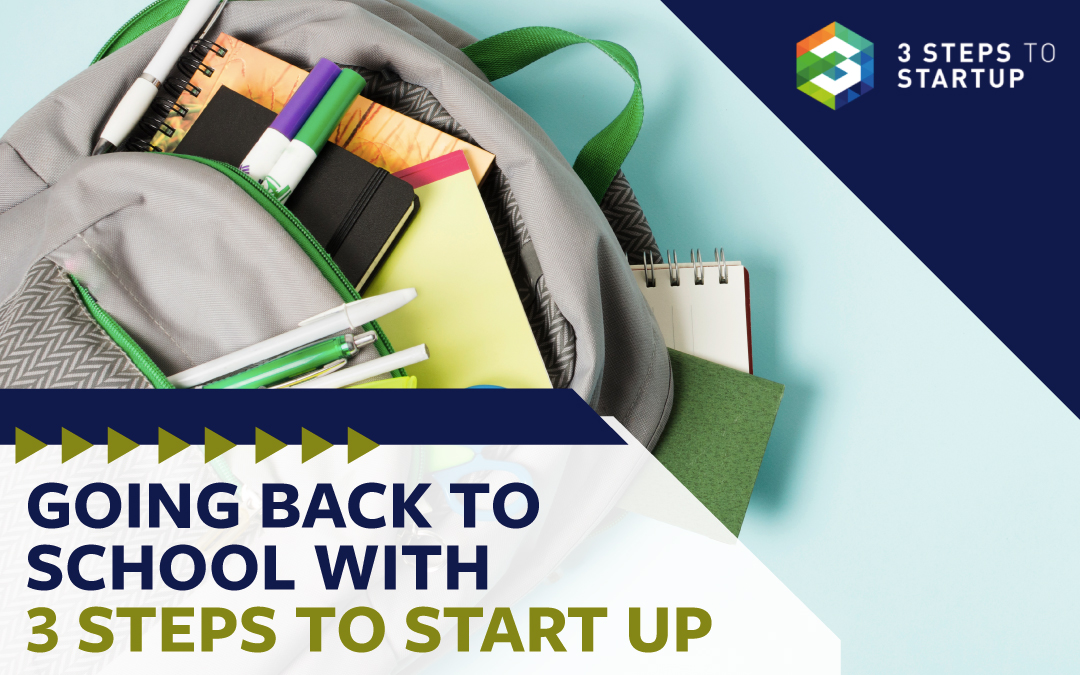 One of 3 Steps' "steps" to startup is Awareness and Education, which makes "back to school" time especially resonate with us. Our mission to support West Virginia entrepreneurs and startups is laser-focused on giving them resources that can enhance their own missions.
Entrepreneurship can be overwhelming, especially if you are a new entrepreneur embarking on your first business. In order to find success, you need to be open to "going back to school" and learning as you go. Lifelong learning is essential to entrepreneurship. That's where 3 Steps to Start Up comes in. We provide a wealth of free resources on our website so that West Virginia entrepreneurs can access the information they need at the ready. We also provide live guidance at our Venture Fairs and other events. Finally, we want entrepreneurs to reach out to us with their questions as they begin or grow their businesses.
Newsletter
If you are an entrepreneur interested in knowing the latest news and tips we have to offer, you will want to sign up to receive our newsletter. You can subscribe by going to our website at 3Steps2StartUp.com. You will be prompted with a popup providing a place to input the email you would like to use to receive the newsletter. If you don't see the popup, simply scroll to the bottom of the page where you will have the same option.
Our monthly Newsletter provides you with the latest news from 3 Steps to Start Up, including any upcoming event information and our monthly blog posts so you can stay up-to-date with any information about our activities or news.
Our Master Class series has been successful in helping new (and some seasoned) entrepreneurs navigate the process of business startup or maintenance. We tackle topics like funding, building a team, and long-term business maintenance. So far, our Master Class series has five editions, with more to come!
Our goal with our Master Classes is to address business ownership holistically and examine all aspects of the knowledge an entrepreneur should have to start up and operate their business successfully.

In the Learn section of our website, we also link our current podcast episodes. We now have five episodes on the site, including an extensive two-part discussion with Scott Ewing of the Appalachian Investors Alliance on business ventures and preparation.

We designed our podcasts to provide short, digestible information for entrepreneurs on the go who may not have the time to commit to a lengthier Master Class or read a lengthy article. We think that the diversity of the information across our Master Classes and Podcasts pays off for those entrepreneurs who invest in watching/listening to them.

 

Innova Commercialization Group is instrumental in connecting our entrepreneurs with access to a Mentor Network and technical assistance. We believe that those in the best position to provide education and guidance to new entrepreneurs are seasoned entrepreneurs, and through 3 Steps to Start Up, our start-up owners can access that guidance through the extensive networks Innova provides. Keep an eye out for any of our upcoming commercialization events meant to strengthen our networks of entrepreneurs and resources.

 

Venture Fairs

We consider our Venture Fairs a primary point of entrepreneur education. At the Venture Fairs, experienced entrepreneurs share their successes and their mistakes and new entrepreneurs can interact directly with them

Specifically, we have focused on providing extensive guidance on how to pitch new business plans. This guidance comes from experienced entrepreneurs who have given successful business pitches as well as funding sources that have heard countless pitches (good and bad!) Check out the videos from our virtual venture fairs in March and November of last year.

Consistent accessibility

The resources we provide are available to anyone, at any time. Under the Learn tab of our website, you can access our blog, podcasts, master classes, and venture fair recordings. Click on the Resources category to access online resources as we add them!

3 Steps to Start Up remains committed to ensuring access to information and assistance for all entrepreneurs in West Virginia! Contact us to learn more about our process and how we can help your start-up. All it takes is one step to set you on the path to success. Connect with us today!

Tags: 2022 Startups, 3 Steps To Startup, Back to school, Business Networking, Business Start Up, Businesses, Client Base, Master class.