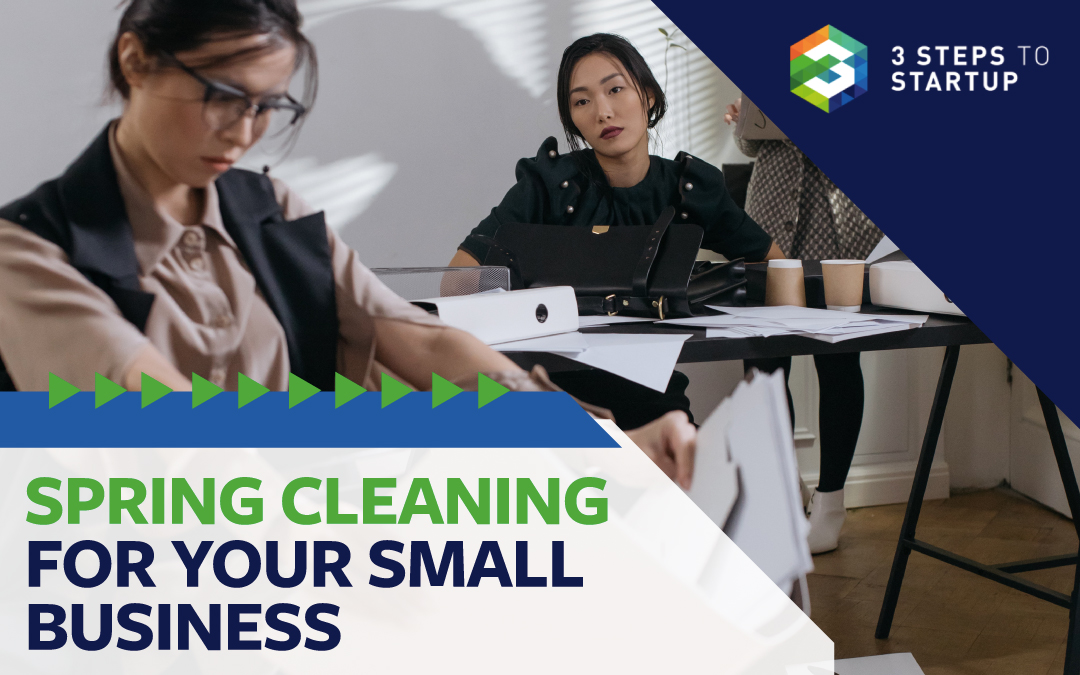 Spring has arrived, and that means 'tis the season for spring cleaning! Your small business is no exception when it comes to the need for refreshing. At 3 Steps to Startup, we are in the business of providing support for entrepreneurs throughout West Virginia at all stages. If you're hoping to start a new business, there's no time like the present! Jump in with support from our program! If you're a first-time entrepreneur already in business, utilize these 4 strategies to do some "spring cleaning" for your business.  
Update and refresh your website and social media pages

 
Your website and social media are the go-to for people seeking information about your business. Do not let them "collect dust" before you update key information. Research shows that consumers take about 50 milliseconds for a website visitor to form an opinion about your company and whether they'll purchase from you.   
Technology is constantly changing, and you can't afford to remain stagnant. Mobile visits account for more than half of all website visits, and keeping the mobile version of your website fresh takes diligence! If you have an older website, it may not be mobile-friendly. That shuts out more than half of your website visitors!   
Your main priority when you "spring clean" your business's website is to check for any errors. Have you changed your business phone number? Moved offices? Have any advertised prices changed? Make sure all the information on your site is up to date and accurate, especially contact information.   
You can also explore ideas for an overhaul of your website or social media pages. New stock photos can provide a fresh vibe, or you can look at a redesign if you feel that your pages are dated.   
Now is a great time to dig into your business's books and ensure that they're in good shape. You've already been working through tax season, so you may have a good idea of where your books stand currently. Remove the clutter and try to go paperless. You can digitize most paper documents and throw them away. You should also plan for the future during this process. How will you organize the data storage? Setting up a system before you begin ensures optimum organization.  
Review to make sure that the accounting software you usually use serves your current purposes, and look into any changes that might help your business function better. If you outsource your accounting, it's a good time to review your books to make sure things are still being done the way you intended and make changes to address issues that you have encountered over time. Accounting problems accumulate over time, until all of a sudden, they're out of control. Avoid encountering major issues by checking in periodically and staying organized. It is relatively easy to become complacent with processes that are already in practice, even if they aren't optimizing your business's performance. It's time to change that!  
Nothing feels better than your home or office when it's been freshly cleaned in the spring. Now, imagine the feeling of opening your email and having no unread messages or flagged emails waiting for you when you open your inbox. Take it a step further and organize your inbox. Create labels so it's easier to find emails you'll need later. The organizational possibilities are endless!   
Another natural next step is to declutter your digital files. Clear off your desktop and organize the files that were taking up space. If that seems overwhelming or too time-consuming, try this hack: put everything old in a folder to get it out of your view but still accessible later if you need it. Then, create an organizational structure for going forward and don't worry about the old stuff. The idea is to not let being overwhelmed now hinder you from future productivity.   
Do some actual spring cleaning!

 
Clear out the clutter from your office space, starting with your desk. Clearing off your desk may help you find that document you've been looking for and speed up your efficiency. When everything is in place, you can easily locate what you need quickly instead of wasting time searching for items. If you move beyond your desk and put forth effort into decluttering and cleaning your entire office, your productivity can skyrocket!  

Declutter by getting rid of extra office supplies you've been accumulating. Take a quick inventory and determine which supplies you like and use… then throw away or donate the rest. It's easy to collect dozens of pens or notepads that you will never use. Extra stuff means it's harder to find the stuff you need.   

Running a small business requires routine maintenance, and spring is an ideal time to regroup and get things done. If you're someone who hasn't yet started your business, it's a good time to get plans in order as well. Setting up your processes and getting organized will serve you well as you embark on entrepreneurship. 3 Steps to Startup is here to help! We can help guide you to resources to make your transition into small business ownership seamless. Connect with us today! —>

Tags: 3 Steps To Startup, Business Networking, Business Spring Cleaning, Businesses, Educational Resource, Information Resources, Informational Blog, Small Business Data Cleaning, Small Business Spring Cleaning, Spring Cleaning, Startup, Startup Companies